Update: Sound Byte section finally updated. See what game I just can't wait to get my grubby mitts on..
Recent: Seeing as I'm on an "early demo" roll, I thought I'd best upload what I have so far of NineBall, to prove that I have actually done some work on it ;) early NineBall demo. As for ScaleX, you can now actually "drive" the cube around now: early ScaleX demo. And to complete the hat trick, early RC Car Demo. Demos last updated 2nd Feb '99
Click here for a record of the Gravitation Championship, which was a great success. I can't wait for someone to run a similar thing with one of their Yaroze games (kind of like those Max Power/Rollcage lap-record compos on the OPSM).
Click here for full help regarding how to record and submit demos, as I am still interested to see any fancy flying or new records you can come up with; and don't forget that you can learn the tricks of the trade in the world-renowned Grav Flying Guide.
FTP FILE:
TITLE:
COMMENT: (Note: C source included/available for all programs)
GAMES:
GRAV13.ZIP
GRAVITATION
Latest version, v1.3 With a new demo mode, and PAL/NTSC switchable (372K)
DEMOREC.ZIP
Demo Recorder
Grav add-on allowing you to record your own demos! (25K)
GRAVSRC.ZIP
Gravitation Source
C source code (v1.3 but without header) (28K)
CONNECT4.ZIP
Connect 4
Just like the real thing from MB Games; two players only (33K)
SCALEX.ZIP
ScaleX
3D Scalextric 4-player racer. Brand-new project but looking promising, just gotta suss this dynamic TMD business.. early demo
NINEBALL.ZIP
NineBall
3D 9-Ball pool. Work is on standby, but don't worry, this WILL get finished, eventually... early demo
DARTS.ZIP
Pub Darts
Haha, you think I'm joking don't you! Bwaahaaahaa!
FFORD.ZIP
Formula Ford
Scrapped -- no real point now, been done with TOCA2
LEARN01A.ZIP
Learner Driver v0.1a
Real car physics sim in city driving -- on the back-burner this'n... but try this: RC Car Demo
UTILS:
BGEDIT.ZIP
BGmap Editor v1.2 (PAL)
Create variable BgMaps right there on your Yaroze screen! Complete with source for customisation, PAL version (15K)
BGEDNTSC.ZIP
BGmap Editor v1.2 (NTSC)
NTSC version! Create variable BgMaps right there on your Yaroze screen! Complete with source for customisation (15K)
MEMVIEW.ZIP
Memory Viewer v1.1
Graphically view Yaroze RAM, 0x80000000 to 0x801fffff. Allows variable screen widths (11k)
ANALOG.ZIP
Analog PAD diagnostics
Program that displays analog PAD values useful for checking in-game 'dead' zones. (v1.1 6k)
SCBUILD.ZIP
Sin/Cos LUT Builder v1.1
DOS program that generates variable size SIN/COS lookup tables as 'sincos.h'. Source included (13k)
CODING DEMOS:
BGVIEW.ZIP
BGmap Viewer
Simple example of how to use BGEDIT's BGmaps (5K)
EXPLODE.ZIP
Particle Explosion
Simple yet versatile particle explosion demo (3K)
TRUE3D.ZIP
True 3D F1 still image
See my GP2 F1 car in glorious real 3D using cross-eyed fusion (34K)
PSYCHO.ZIP
Frame Buffer madness
Psychedelic stuff for psychos. Point the screen at itself etc.
SCR360.ZIP
Simple scrolling demo
Same as below but 360degree movement (with analog support)
SCROLL.ZIP
Simple scrolling demo
Basic infinite horizontal scroller not using BGcells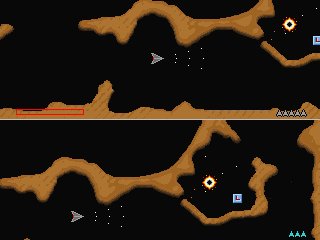 he FTP file area now has -- GRAVITATION v1.3!!! New for v1.3: Demo mode, on-screen map icon with race path indicator, help info screen, identical PAL/NTSC physics, video adjuster, bug fixes (and lots of optimisation (slowdown is practically impossible)). Featuring nine playing maps, two-player races or dogfights (one-player mode serves as time-trials/practice), multiple powerups, weapons and a bunch of surprises lurking in PODS that randomly deploy around the levels. Also has a CD PLAY option (with skip) so it's choose your own music or do without :), and some simple sound effects, both with separate volume controls. (The shooting sound is actually me flicking my cheek (played backwards) Rolph Harris stylie!). Getting that not-so-good thrust sound to loop properly was a miracle on its own, never mind getting the thing to run (hopefully) bug-free. Also has FULL PAL and NTSC switchability. See the game's readme.txt for more details. N-Joi the game.
GAME ZONE SOUND BYTE

OO DAMN LONG!! That's describing the wait for the game Driver by Reflections which I've been looking forward to since seeing some early info many months back in Edge. Have you actually seen the demo on this month's OPSM?! I've waited all my life for a game like this, seriously. I was sceptical as to whether it would recreate the feel of those amazing Bullitt-style American car chases, but from the demo I doubt I'll be dissapointed. I mean, it not only has the cool crashing through boxes cliche of these movies, its attention to detail even goes as far as hub-caps popping off on the bends -- and cars take very realistic damage and have lovely soft suspension.
I only hope there are enough missions, as this game will be very likely be my game of 1999.

So it looks like PlayStation has redeemed itself from my recent enthusiasm for Nintendo games (N64 and GameBoy Color) from genius such as Zelda, 1080° and F-Zero X. The PSX's "best", Metal Gear Solid is surely overrated, as is Gran Turismo in my humble opinion, but GT2 should hopefully rectify that. I hope.

Well, back to the Driver demo then..
________________________________



Home: jamess@codie.freeserve.co.uk Work: jamess@codemasters.com
This area is protected under my own stringent policies and copyright law such that you may not plagiarize any material herein, or extract any urine without prior written permission by the author; because it's a dog eat dog world out there.