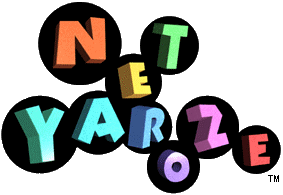 . . .
. . .
Updates
12 August 2005.
Updating...
1 August 2005.
Scott Cartier, author of Decaying Orbit, is working on porting more Net Yaroze games to NUON.
29 May 2005.
My psychic powers tell me you're looking for cheats for Rocks'n'Gems. Hmm . . ?
I knew it! Well, enter 68153461 as the password, and you'll enable the option to start the game on any level. And if that isn't amazing enough already, pause the game, hold select, and press cross - open exit, square - max dynamite, triangle - max time, or circle - max nitroglycerin. The true Rocks'n'Gems aficionado will also want to download the instruction manual.
12 May 2005.
Added links to Ben James' Psychon, Squeak, Katapila, and Shroud. Also, a scan from OPSM #85.
2 May 2004.
Yaroze stalwarts Matt Verran and John Prestidge have recently released the rather splendid Emotion for Net Yaroze and PAL mod-chipped PlayStation. Visit the Emotion site.
March 2004.
Official UK PlayStation Magazine: November 1995 – March 2004. RIP.
Wha-? Is it 2004 already? More content is on the way, promise. I know, the links on the left still aren't working (well, a few are). Stay tuned.
. . .
Information
SCEE Net Yaroze Video 6.97 MB (requires DivX codec)


SCEE Net Yaroze Brochure

SCEA Net Yaroze FAQ
SCEA Net Yaroze B-Roll 283 MB
. . .

Official UK PlayStation Magazine #42 February 1999
. . .

E190 July 2008


Class of 2000
E92 Christmas 2000


Generation Y
E41 January 1997


Do it yourself


The company line
E52 December 1997


Net Yaroze moves into second gear – and academia
E56 March 1998


Yaroze: let the games commence
E58 May 1998
Net Yaroze 1st Anniversary Game Competition:


Yaroze competition results / Yaroze winner speaks
. . .
Links
Hermitgames
Matt Verran
DragonShadow Industries
Scott Cartier
Net Yaroze UK
Ben James
PALPALPALPAL
Philippe-André Lorin
. . .
SCEE Technology Group
PlayStation 2 Linux Community
SCEI Net Yaroze Information
Programming Links
Coranac
Jasper Vijn
. . .
ネットやろうぜ